Luana Rubin of eQuilter.com's video of the Ruby Jubilee where my quilt, "Honoring CBOT" was in the circle.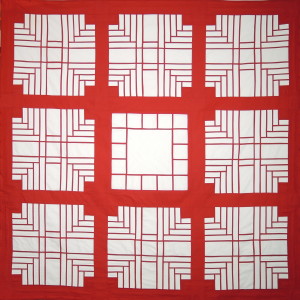 All about this quilt, "Honoring CBOT" on Pat Sloan's radio/podcast show. Follow the link to listen …
http://www.creativetalknetwork.com/ OR http://www.allpeoplequilt.com/magazines-more/quilting-podcast OR
go to iTunes and search podcasts for American Patchwork & Quilting radio and subscribe to Pat's podcasts for automatic downloads or for this one specifically on 9 February 2015. Enjoy!
I first saw a red and white folded log cabin quilt in 2007. In 2011, the American Folk Art Museum displayed a portion of the collection of Joanna Rose called "The Infinite Variety: Three Centuries of Red & White Quilts." The 2011 exhibit was magnificent!
This year, the International Quilt Festival will present an exhibit to celebrate its 40 years as the largest quilt show in the US. The 2011 NYC exhibit was mentioned as part of the inspiration and theme for their special exhibit.
Deciding this was the time to make a timeless red and white quilt, I designed a quilt. It is in process. Photo will be here at a later time.
The Quilt Alliance also has a quilt contest, "Inspired by." This 16″ x 16″ quilt should be inspired by a quilt that is documented on The Quilt Index or Q.S.O.S. Not a copy of one but an original design. This quilt design came first but was also the basis for the IQF red and white quilt. More details to follow …