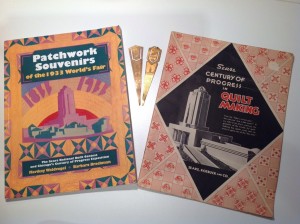 This year the Quilt Alliance chose inspiration for the annual contest, from either The Quilt Index or the Q.S.O.S. (Quilters' Save Our Stories).
When I reviewed quilts from Illinois on The Quilt Index, I found a quilt from the 1933 World's Fair in Chicago when Sears, Roebuck & Co. sponsored a quilt contest for the fair. The quilt was entered by a woman, Louise Rowley, but in fact was made by her son, Richard, a draftsman. The pattern name called A Century of Progress is an aerial view of the fairgrounds and was entered in the contest at the State Street store.
The quilt spoke to me .. the bright blue and waves of Lake Michigan, the architecture of the buildings, the sunny yellow orange, purples, appliquéd pieces on the quilt; mesmerizing.
The Chicago Century of Progress was the theme of the fair. I own the book by Merikay Waldvogel and Barbara Brackman which features quilts and the history from the Sears competition. Recently I acquired the booklet from the competition.
The links to me include: from Chicago, worked downtown in the loop near the Sears Tower, love Chicago architecture, near and dear.
This inspiration led to my quilt design of the Chicago Board of Trade which was built in the same time period (1930).